Or, one gammon, many dinners.
You might think it's a bit odd to offer you directions on boiling a bit of ham. Think on it more as suggestion for frugality. I always always always make soup from the stock I boil my ham in, because it tastes so fab, and this is the soup I make most often. Invest in some tip and zip freezer bags from Home Bargains and you can freeze quite a few lunches worth of tasty, warming, nutritious and naturally low fat soup. Big win.
I usually cook a ham of around 1-1.5 kg in weight, and use 500g yellow split peas plus veg with the corresponding amount of stock, that seems to work fairly well.
To cook your ham:
1 smoked or unsmoked gammon joint
Enough water to cover
To make your soup
Approx 500g dried yellow split peas, more if you've cooked a huge joint in loads of water
a couple of sticks of celery, chopped
a few carrots, chopped
Any other veg you feel needs using up - sweet potatoes, squash, peppers, courgettes, parsnips, leeks etc, chopped.
I make this two ways. To boil on the hob, just cover your gammon with water in a lidded pan, bring to the boil, then simmer for an hour. Then tip the cooking water onto your veg and split peas in a big stock pot and simmer until it's all tender. You might need to add more water if there's lots of veg but DO NOT add salt or stock cubes, it will be salty enough. It's my habit to throw the leftover chunk of ham (after carving off whatever's being served for dinner) back into the pan to make it really tender and easy to shred.
I do, however, prefer to slow cook everything. 8 hours on low will do for the ham - if I'm slow cooking I tend to chuck the carrots, celery and any rooty veg in from the beginning. Fish the ham out and add your split peas and any more tender veg like peppers, and cook on high for 2 hours.
Either way, you'll then need to blitz the soup to a velvety smoothness then shred in any leftover ham in small pieces.
Serve your sliced ham with veg of your choosing - we like mash, peas and gravy or parsley sauce, or peas and cauliflower and broccoli cheese:
Enjoy your soup the following day: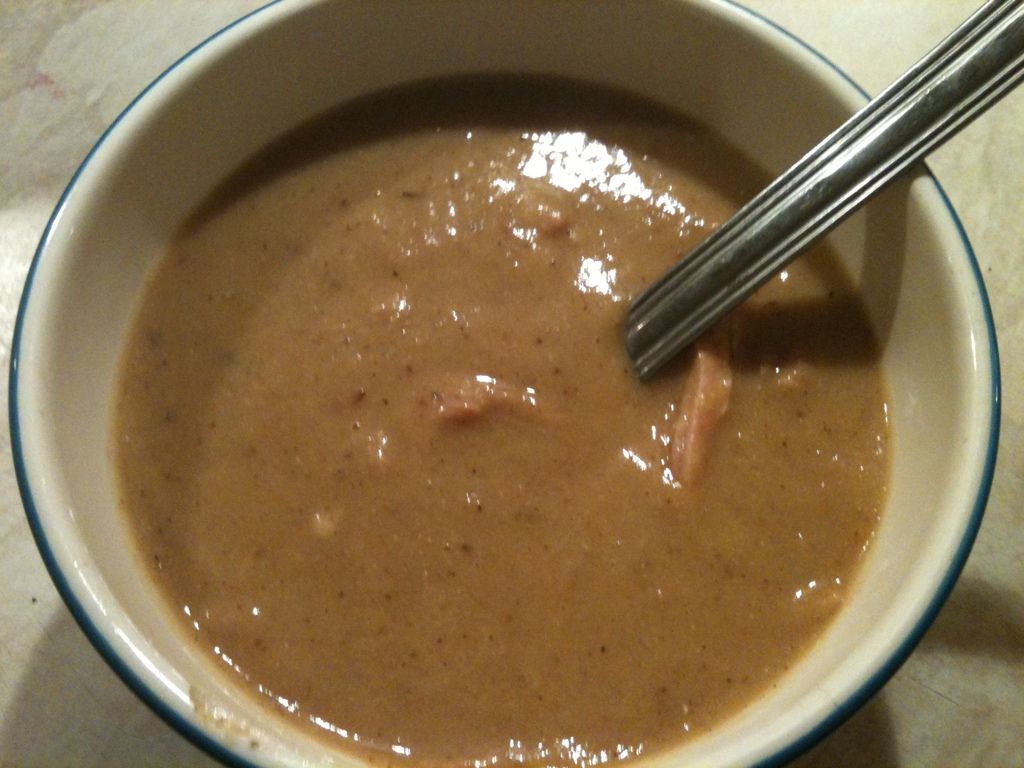 (this one contained carrot, celery, sweet potato, leek and courgette).